H-17285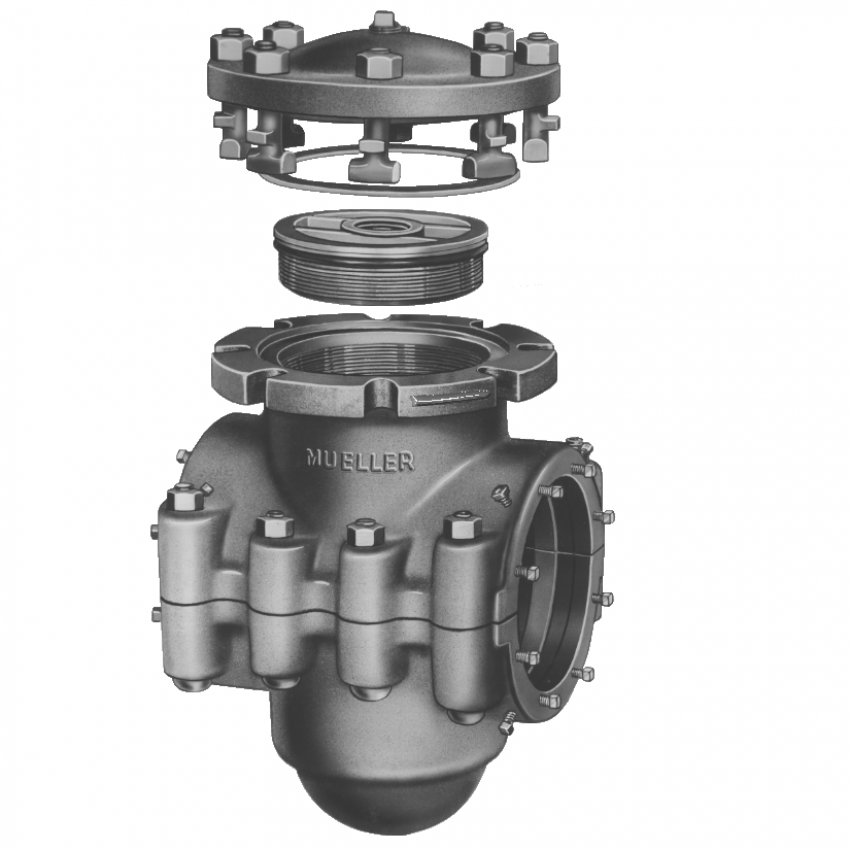 H-17285
Mueller® Line Stopper Fitting Mechanical Joint Type for Thin Wall Steel Pipe - 175 psig.
Catalog number: H-17285
Specifications:
Sizes – 6"
For use on thin wall steel pipe
Fittings for Thin Wall Steel Pipe can be recognized by added ears on Flange, red paint and "THIN WALL" cast in plug.
O-ring sealed cast iron (ASTM A126 CL.B) Completion Plug with equalizing valve
Flange, Completion Cap, fitting top and bottom halves are cast iron (ASTM A126 CL.B)
Class 150 flange complies with dimensional requirements of ANSI B16.5
175 psig** (1206 kPa) maximum working pressure at 100F (38C)
**This is the maximum pressure of the fitting installed in the line at 100F for Class Locations 1, 2, 3 and 4 as defined in D.O.T./CFR TITLE 49 PART 192. It may be necessary to reduce the line pressure during the drilling, stopping or plugging operations to the maximum working pressure of the machine or its attachments. Refer to charts on following pages.
Demonstration Video
Pipe Dimension:
Size* of Line Stopper Fitting

Outside Diameter of Shell Cutter Required

Outside Diameter of pipe

Pipe Dimensions

Maximum Wall thickness

Minimum Wall thickness

Maximum Inside Diameter

6"

6-1/2"

6.625"

.280" (sch. 40)

.125"

6.375"
Drilling/Line
Stopping Machine combinations that can be used to install and stop-off H-17285 Fittings:
Drilling Machine

Line Stopper Units

Unit No. 3SW

Unit No. 3SW-500

H-17285

C1-36

6"

6"
Replacement 
parts:
| | | | | | | |
| --- | --- | --- | --- | --- | --- | --- |
| Fitting Size* | Completion Cap | Test plug | Completion Cap Bolts and Nuts (No. Required) | Completion Cap Gasket | Completion plug Assembly | O-ring Seal |
| 6" | 36609 | 64134 | 36446 (8) | 62945 | 83703 | 79477 |
Fitting Size*

Side Gasket

Long Bolts

ShortBolts

Gromets

Top End Gaskets

Bottom End Gaskets

End Gasket Followers

End Screws

Set Screws

6"

37820 (2)

61114 (4)

60862 (4)

37657 (8)

37822 (2)

37823 (2)

37824 (4)

92481 (16)

52973 (8)

 
*Nominal
Equipment required to install and stop-off H-17285 Mechanical Joint Line Stopper Fitting:
Tool Name

Qty. Req'd.

Line Stopper Unit No. 3SW

Line Stopper Unit No. 3SW-500

6"

H-17285

6"

H-17285

DrillingMachine

1

C1-36

C1-36

StoppingMachine

2

H-17340

H-17342

Gate Valve

2

83953

83721

ValveAdapter

2

501223

63205

Drillingmachine Adapter

1

36545

83730

Cutter Hub

1

83760

83760

ShellCutter

1

63146

63146

PilotDrill

1

83639

83639

SteelWedgeStopper*

2

89700

89700

Completion Machine

1

H-17346

H-17347

PlugAlignmentTool

1

83250

83250

PlugInserting Tool

1

83237

83237

PlugExtracting Tool

1

83238

83238

Completion Plug Wrench

1

36424

36424

Thread Cleaning Tool

1

89319

89319

Inspection Flange

1

H-17619

H-17619
* Steel Wedge Stopper with polyurethane cover suitable for use with gas and petroleum