H-17506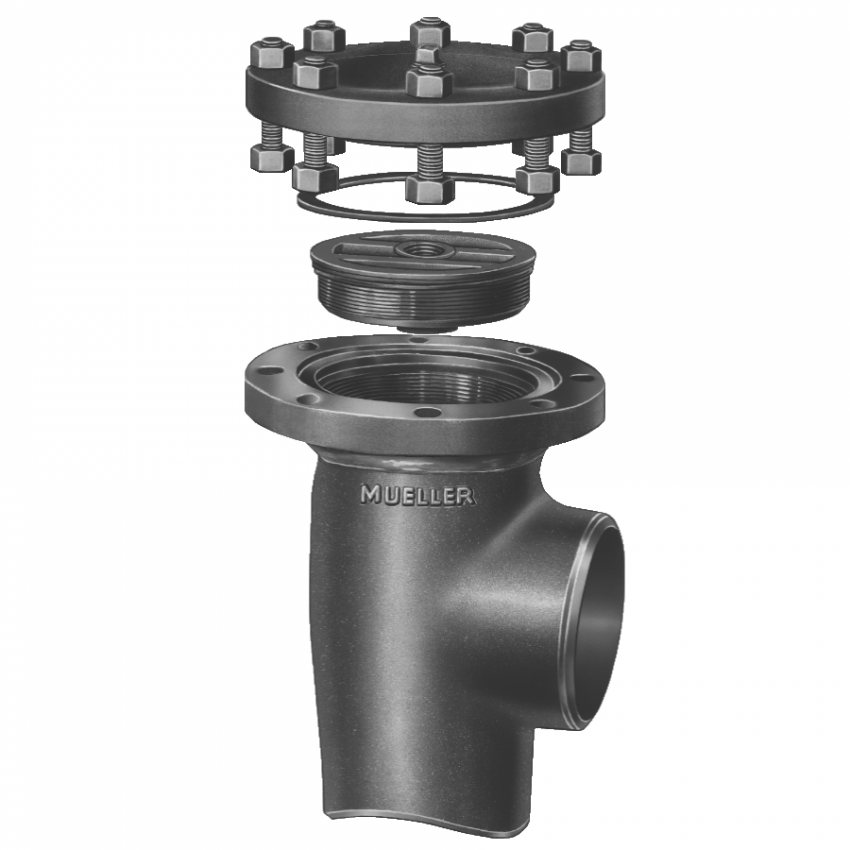 H-17506
Mueller® H-17506 Flanged Tee.

Catalog number: H-17506
Features:
Sizes – 3", 4", 6", 8"
For use on steel pipe only---bottom of tee is contoured to fit pipe one size larger than nominal size of tee
Also available with flat bottom (no contour/no bevel) using H-17506-99000
For inlet beveled but not contoured, use H-17506-99001
O-ring sealed steel (ASTM A216 GR. WCB) Completion Plug with equalizing valve
Flange, Completion Cap are forged steel (ASTM A105)
Tee body is forged steel (ASTM A234, Grade WPB)
Class 300 flange complies with dimensional requirements of ANSI B16.5
720 psig** (4136 kPa) maximum working pressure
**This is the maximum pressure of the fitting installed in the line at 100F for Class Locations 1, 2, 3 and 4 as defined in D.O.T./CFR TITLE 49 PART 192. It may be necessary to reduce the line pressure during the drilling, stopping or plugging operations to the maximum working pressure of the machine or its attachments.
Pipe Dimension:
Size* of Line Stopper Fitting

Size of pipe tee Is Contoured For

Outside Diameter of Shell Cutter Required

Outside Diameter of pipe

pipe Dimensions

Maximum Wall thickness

Minimum Wall thickness

Maximum Inside Diameter

3"

4"

2-1/2"

3.500"

No limit

.188"

3.124"

4"

6"

3-1/2"

4.500"

No limit

.188"

4.124"

6"

8"

5-1/2"

6.625"

.432" (sch. 80)

.250"

6.125"

8"

10"

7-1/2"

8.625"

.406" (sch. 60)

.250"

8.125"



Drilling/Stopping Machine combinations that can be used to install and stop-off H-17506 tees:
Drilling Machine

Line Stopper Units

Unit No.2

Unit No.3

Unit No.3SW

Unit No. 3SW-500

H-17506

C1-36

3" and 4"

6" and 8"

4", 6" and 8"

4", 6" and 8"
Replacement parts:
| | | | | | | |
| --- | --- | --- | --- | --- | --- | --- |
| Fitting Size* | Completion Cap | test plug | Completion Cap Bolts and Nuts (No. Required) | Completion Cap Gasket | Completion plug Assembly | O-ring Seal |
| 3" | 64203 | 64134 | 43912 (8) | 43959 | 83489 | 43922 |
| 4" | 64204 | 64134 | 43911 (8) | 36377 | 83490 | 43917 |
| 6" | 64205 | 64134 | 500894 (12) | 62945 | 83491 | 79895 |
| 8" | 64206 | 64134 | 43908 (12) | 63057 | 83492 | 79020 |
*Nominal